10-13-2014, 02:07 PM (This post was last modified: 10-13-2014, 02:35 PM by andrern2000.)
Hello. I've been a fan of Descent title since i first played it on 1996 or so when i was in elementary school (
) I've found this VERY NEAT mod of DXX Rebirth. Now I'm attracted back to this game amiddle of high-rigging 3D modern games which requires tons towering specification of hardware.
By the way, I need to limit the fps to 60 as I love my hardware and doesn't want the graphic card to get burnt because of overheating, so I have turned VSync ON on the Options menu, but the FPS still goes waaaay to the 200 fps. This caused my laptop to heaten up quickly. So it has no effect whether I turned vsync on or off it still goes to 200fps. I have tried these steps to turn VSync ON:
1. I have turned Force VSync ON on my video card control panel (Intel HD 3000) but it still have no effect and the frames per second still goes to 200.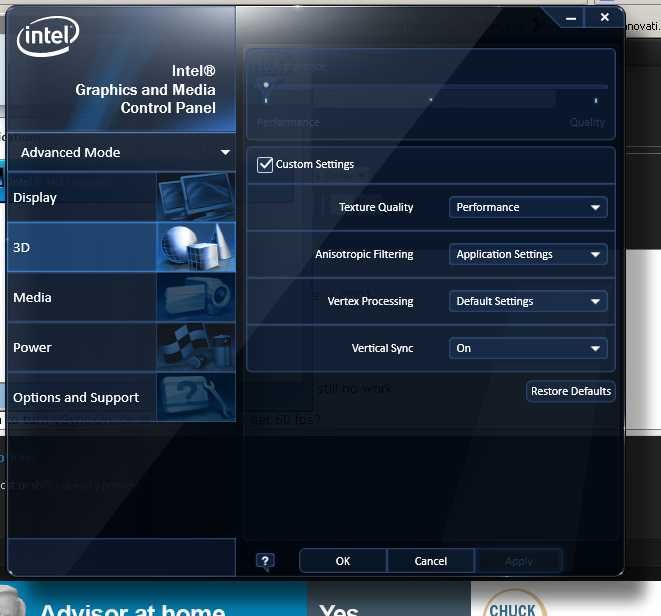 2. I have downloaded D3DOverrider and put D1x-Rebirth to the list and Force VSync ON on D3Doverrider but still no effect. The frame per second still goes to 200 despite I also have turned On the option number 1).
3. I have removed semicolon on d1x-rebirth.ini so now it reads:
System Options:
;-nonicefps                    Don't free CPU-cycles
-maxfps 60                    Set maximum framerate to <n> (default: 200, availble: 1-200)
;-hogdir <s>                  set shared data directory to <s>
;-nohogdir                    don't try to use shared data directory
but I still got 200 fps.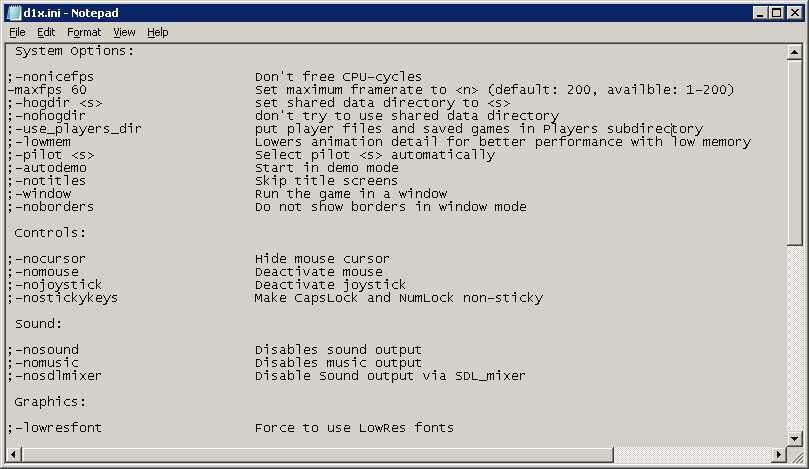 4. I have put a shortcut to d1x rebirth and put -maxfps 60 in the end of it but still no work.
Does anyone have any idea to turn VSync On, or at least for me to get 60 fps?